Carvajal & Colegiados, Certified Public Accountants, started its activities at the beginning of January 1975, which means we can rely on over forty-seven years (47) years of experience.
The Firm was founded by José Antonio Carvajal Arias. His objective was to rank it among the country's most important Firms of its kind, attending all of the country's economic sectors. As years went by, the company grew at an accelerating pace, which explains why it incorporated Gerardo Montero Martínez as a partner in 1999, followed by Ricardo Montenegro Guillén in 2005. These incorporations served the purpose of specializing the Firm's services and consolidating the quality control system of these services. Both professionals already had an important history within the company.
Nowadays, the Firm is registered and active in the Registry of Eligible Auditors of the National Registry of Values and Intermediaries. It thus meets all the Regulation of External Auditors and Measures of Corporate Governance requirements, which are applicable to subjects controlled by the Superintendence of Financial Entities (SUGEF), the General Superintendence of Values (SUGEVAL), the Superintendence of Pensions (SUPEN) and the General Superintendence of Insurances (SUGESE). The Firm is also member of the Costa Rican Association of Professionals of Economic Sciences and the Costa Rican Association of Public Accountants.
It provides services in all local and international productive sectors, such as: government, financial and bank sector, unions, commercial and industrial sector, etc.
Mission:
We are a firm with local and international presence dedicated to supplying audit and consultancy services that bring comprehensive solutions through our human capital to customers of both private and public sectors.
Vision:
To be a recognized company in the fields of audit and consultancy, with quality control standards, internal professional trainings and flexible technological tools that adapt to dynamic economic environment changes. All of the above distinguishes us and provides added value to our customers.
Values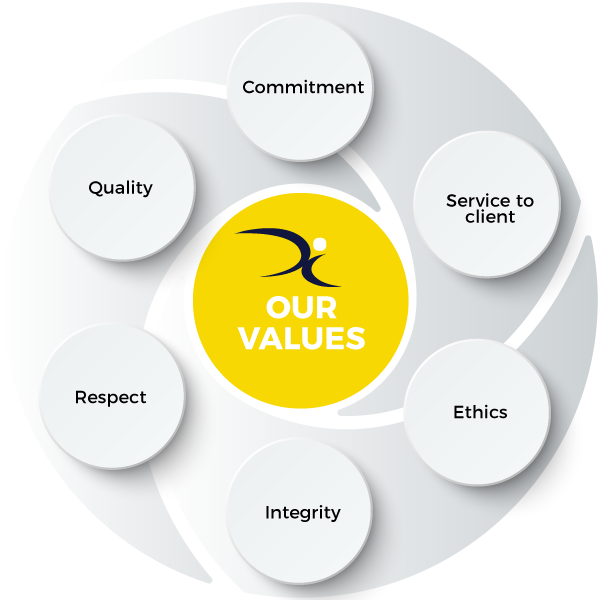 Our Commitment
The commitment that we have acquired with our customers is to exceed their expectations in terms of our Audit and Advisory Services. Our Audit and Advisory Services are aimed to all customers that need to identified and mitigate the inherit risks associated to their business activities, so they are able to face the constant changes surrounding their business environment, obtaining quality work according to international business standards that govern our profession. That is why, through the applications of our expertise and maintaining timely communications with our customers regarding all the different aspects that capture our attention, we guarantee excellent services.
Our firm is not limited to issuing an audit opinion, we focus on providing added value and the best results to our customers through the ongoing evaluations of internal and external risk factors, evaluations of the flow of operations and the revision of the financial statements, which allows us to offer recommendations to strengthen and improve internal control systems, as well as improving administrative and accounting methods and procedures as a whole.
Our knowledge and experience are essential factors that help us develop work of excellence. That is why we offer forty-five (45) years of experience and the knowledge of our most important asset, our professional staff.
Professional updating
The firm has a policy of providing professional updating tools to our staff, using the knowledge shared by our international firms (DFK International and LEA Global), and hiring consultants, experts, webinars, seminars and trainings. This with the aim of complying with a total of annual update hours on relevant topics such as International Financial Reporting Standards, Auditing and related, tax, legal and other essential standards for the execution of work.
Training and education program
Our firm has a training program for new staff, accompanied by the most experienced members of our team, with the aim that our team has the necessary tools and knowledge to carry out the work.
Quality Control
It is our policy and one of our primary objectives, to control the quality of the services provided to our clients. For this reason we apply procedures and constant and required supervision to the work carried out and the careful review of the results and reports. Our quality control system complies with ISQC 1 standards and has been reviewed and endorsed by the Costa Rican College of Public Accountants and by our international representations periodically in recent years.
Our Clients and Sectors
OUR CLIENTS AND SECTORS
Our firm provides services to various clients' profiles in all productive sectors, both locally and internationally including the following:
Governmental Sector and autonomous state entities.
Financial Sector (Banking and Cooperative sector, Pensions sector, Insurance and local Exchange sector. (CONASSIF, SUGEF, SUPEN, SUGESE, SUGEVAL).
Non-financial issuers.
Commercial, Industrial and Services sectors
Employee Union sector (including new regulated model).
Cooperative sector out of SUGEF regulation.
Non-governmental Organizations (NGO), Foundations, non-profit associations.
Projects financed by International Organisms such as IADB, Central American Bank of Economic Integration (BCIE), KFW, IBRD and others.
Projects financed with public funds (FONATEL, Development Bank (FINADE) and others).
Public Government works trusts, public and private funds trusts, real estate funds.